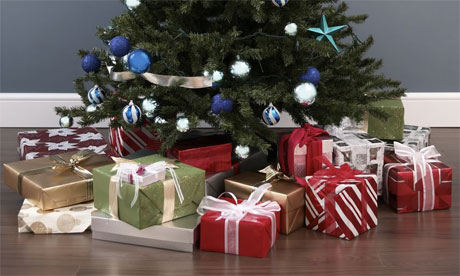 As the holidays draw ever closer, I thought I would take some time to help relieve the stress of buying gifts by giving you an idea of what the hottest gifts are this year. Here's what my friends and family will be getting from me:
Video Games-
video games are more popular than ever, and here are some of 2009's hottest titles to look for in stores this season.
Grand Theft Auto(erotic asphyxiation)
Call of Duty 2: Jury Duty
Tom Clancy's Rainbow Six: Congressional Subcommittee Hearing
Assassin's Creed 2: Assassinate Creed
Wikipedia Edit Challenge 2009: Citation Needed
Rock Band: The Captain and Tenille Edition
Gift Cards-
Sometimes, the best gift you can give someone is the gift they give themselves using money or electronic credit that you gave them. Here are some of the most popular gift cards this year.
Waco Taxidermy- free raccoon pelt with purchase of full body raccoon mount
Ace Hardware- $15 'bucket 'o drywall screws'
Chili's Bar and Grill- 50% off any appetizer with purchase of Chili's franchise
Hasting's Books, Music and Video: Buy any Jennifer Lopez movie, get a Matthew McConaughey movie free (not valid for any movie that grossed more than $10m at the box office)
Praco Gun & Pawn: Free rifle cleaning with purchase of gutting knife
Toys-
What Christmas or Hanukkah celebration would be complete without seeing the eyes of your children light up when they see the toys that Santa has brought them? The following are some of the year's most sought-after toys for the kids.
My First Meth Lab- your child will be fascinated for hours while learning about chemistry, engineering, business, psychiatry, and basic legal procedure! Includes lab coat, test tubes, bunsen burners, and coffee filters. Batteries not included (but battery acid is essential if you want to use the kit properly)
Li'l Busboy- teach your child the value of hard work with this fun roleplaying game! Your child can't wait to put on the white t-shirt, black apron, and hair net. Bonus points for skimming tips!
Twilight: The Movie action figures. Characters include 2nd Assistant Gaffer, Best Boy Grip, and Assistant to the Caterer! Have fun reenacting all your favorite scenes from the behind-the-scenes footage from the movie!
Professor Bates Action Figure: teach Contracts and Secured Transactions with this action-packed toy that's guaranteed to be a hit with buyers and sellers alike! Contracts II exam included, BMW and Unidentified Woman sold separately.
These are just a few ideas to get you started with your holiday shopping. They're guaranteed to be a hit, and when you see the look of joy on your loved ones' faces, you can think of me.